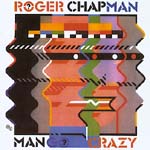 This is a reissue of the 1983 Roger Chapman solo album that gave him his first taste of chart success in Europe. Mango Crazy was the first of a number of self-produced chart hits for the former Family vocalist in the eighties.
This resulted in him receiving a lifetime achievement award in Germany during 2003 for his contribution to music in Germany during the eighties period.
Once again, Roger teamed up with song-writing partner and guitarist Geoff Whitehorn.
Featuring a bonus track, extensive liner notes and quotes from band members and some previously unseen photographs.

---
Like this? Try these...
ROGER CHAPMAN
Mango Crazy
1. Mango Crazy 2. Toys: Do You 3. I Read Your File 4. Los Dos Bailadores 5. Bluesbreaker 6. Turn It Up Loud 7. Let Me Fown 8. Hunt The Man 9. Rivers Run Dry 10. I Really Can't Go Straight 11. Room Service 12. HeGoSheGoWeGoAMigo
BONUS TRACK
Maybe A Shot In The Dark

---

Mango Crazy
---
Musicians
Roger Chapman - lead vocals Geoff Whitehorn - guitar Steve Simpson - guitar Boz Burrell - bass Alan Coulter - drums Nick Pentelow - saxophone Ron Keahy - keyboards John Cook - keyboards Duncan Mackay - keyboards