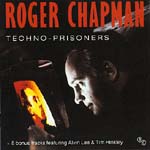 Originally released in 1987 Roger was the first rock artist of his generation to record an album in a contemporary techno style.
Produced by the legendary Dutch production team 'The Bolland Brothers', the album melds raw talent with polished production.
Five original demos are included as bonus tracks featuring Alvin Lee and Tim Hinkley.
---
Like this? Try these...
ROGER CHAPMAN
Techno Prisoners
1. The Drum 2. Wild Again
3. Techno-Prisoners 4. Black Forest
5. We Will Touch Again 6. Run For Your Love 7. Slap Bang In The Middle
8. Who's Been Sleeping In My Bed
9. Ball Of Confusion
Bonus Tracks
(featuring Alvin Lee & Tim Hinkley)
10. Who's Been Sleeping In My Bed
11. Slap Bang In the Middle
12. We Will Touch Again 13. Wild Again 14. Red Moon & New Shoes

---

Wild Again

Techno-Prisoners