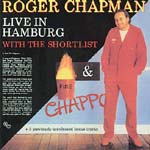 Roger Chapman's first two solo releases are packaged together here for the first time.
The studio album 'Chappo' comes with two previously unreleased bonus tracks. This album was one of Roger's most popular featuring classic tracks such as 'Midnite Child' and 'Moth To A Flame'.
'Live In Hamburg' was recorded on the Shortlist's first German tour and featured here with a bonus track.
Detailed sleeve notes and lyrics.
---
Like this? Try these...
ROGER CHAPMAN
Chappo/Live In Hamburg
CD1 1. Midnite Child 2. Moth To A Flame 3. Keep Forgettin' 4. Shape Of Things
5. Face Of Stone 6. Who Pulled The Nite Down 7. Always Gotta Pay In The End
8. Hang On To A Dream 9. Pills 10. Don't Give Up
Bonus Tracks
11. Pills 12. Fist-Ter-Yer-Jaw
CD2 1. Moth To A Flame 2. Keep Forgettin' 3. Midnite Child 4. Who Pulled the Nite Down 5. Talking About You 6. Short List
7. Can't Get In 8. Keep A Knockin'
9. I'm Your Hoochie Koochie Man 10. Let's Spend the Night Together
Bonus Track
11. Hey Mr Policeman
---

Keep Forgettin'
---