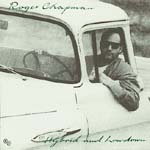 'Hybrid And Lowdown' can almost be looked upon as a turning point in Roger Chapman's songwriting and singing career with a more relaxed approach and fewer uptempo songs.
This double CD comes with extensive sleeve notes and a 22-minute live bonus CD recorded on the album's promotional tour, in Germany November 1990.
---
Like this? Try these...
ROGER CHAPMAN
Hybrid and Lowdown
CD1 1. Hot Night To Rhumba
2. Holding On 3. Hideaway 4. Beautifully Indecent 5. Sushi Role 6. Someone Else's Clothes 7. Chicken Fingers 8. House Behind the Sun 9. Sushi Rock
10. Is There Anybody Out There? 11. Cops In Shades 12. Bye Bye Love
CD2 1. Beautifully Indecent 2. Sushi Roll/Sushi Rock 3. Someone Else's Clothes 4. Moody's Jump/Big River
5. Chicken Fingers
---

Hot Night To Rhumba
---