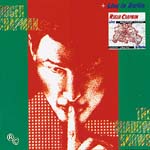 This album was recorded by Roger Chapman following the huge success in Germany of his single 'Shadow On The Wall'.
Released in 1985 it reflected Roger's writing and recording partnership with guitarist Geoff Whitehorn best known for his session work and time in Crawler.
Bonus tracks include those featured on the contemporaneous 'Live In Berlin' EP.
---
Like this? Try these...
ROGER CHAPMAN
The Shadow Knows
1. Busted Loose 2. Leader Of Men
3. Ready To Roll 4. I Think Of You Now
5. Sitting Up Pretty 6. How How How
7. Only Love Is In The Red 8. Sweet Vanilla 9. I'm A Good Boy Now
Bonus Tracks (Live In Berlin)
10. Shadow On The Wall 11. Let Me Down 12. How How How 13. Mango Crazy
---

Leader Of Men

Sitting Up Pretty
---