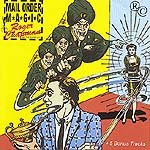 A welcome reissue for one of Roger Chapman's best-loved albums. Mail Order Magic was Roger's second solo studio album in 1980 and his first fully self-penned release.
This definitive reissue comes with five bonus tracks including three live recordings made in Germany at the time of the album's first release, exclusive line rnotes featuring quotes from band members and some previously unseen photographs.

---
Like this? Try these...
ROGER CHAPMAN
Mail Order Magic
1. Unknown Soldier 2. He Was She Was 3. Barman 4. Right To Go 5. Ducking Down 6. Making The Same Mistake 7. Another Little Hurt 8. Mail Order Magic 9. Higher Ground 10. Ground Floor
BONUS TRACKS
Fortune Teller - Higher Ground (original demo) - Unknown Soldier (live) - Ducking Down (live) - He Was She Was (live)

---

Right To Go
---