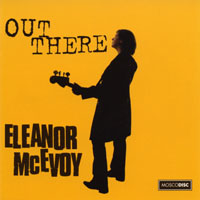 Eleanor McEvoy is one of the leading singer songwriters of her generation; an accomplished multi-instrumentalist she is a respected performer of contemporary and traditional music.

From her early career honed and developed performing in the National Symphony Orchestra of Ireland Eleanor has gone on to become an artist and performer known throughout the world for her stunning live performances. Her critically acclaimed canon of work spans five albums, several singles and appearances on numerous compilation albums.

Today she is recognised as Irelandís most successful female singer songwriter having enjoyed personal chart success and numerous cover versions of her own songs.

Eleanor McEvoy songs have been translated into other languages, used in film and performed by artists such as Emmylou Harris, Mary Black, and Sonja Kristina.

Eleanor's new album 'Out There' is due in the autumn and will feature ten new songs plus a co-write with the Beautiful South's Dave Rotheray entitled Quote "I love you" Unquote.
There is also a conscience searing rendition of Marvin Gaye's ecology classic 'Mercy Mercy Me' and Lowell George's haunting 'Roll Um Easy.'
ELEANOR McEVOY
Out There
Non Smoking Single Female
To Sweep Away A Fool
Wrong So Wrong
Little Look
Three Nights in November
Mercy Mercy Me
Quote I Love You Unquote
So Much Trouble
Vieglandís Dream
Suffer So Well
The Way You Wear Your Troubles
(When You) Smile
Fields of Dublin 4
Interlude - Iberius
Roll Um Easy
---

(When You) Smile
Click here for more audio samples
Review