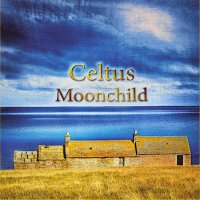 The stunning debut album is a dramatic, powerful blend of traditional feel and contemporary sounds.
The album also features bassist Pino Palladino and 'Riverdance' drummer Ray Fean.
This new version has been remastered with striking new artwork and two bonus tracks
---
SPECIAL OFFER!!
Buy this album and get a FREE copy of the two-track CD single "Bubble" (different mixes) 1 per customer order.
CELTUS
Moonchild
Moonchild - Some Kind Of Wonder - Brother's Lament - The Pilgrim -
Love Turns To Dust - We Two Are One - Trikuti - Every Step Of the Way - Rosa-Ree - Strange Day In the Country -
The Awakening (Bonus track) - Beyond The Dark - All Around The World (Bonus track)
---

Strange Day In The Country

Like this? Try These!!