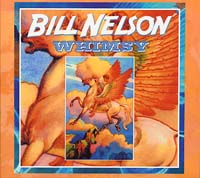 Bill Nelson is one of those rare artists who has successfully buried his "pop" past. For a couple of decades he has immersed himself in ambient music and recordings emanating from his home studio.
A niche market and a million miles from the TOTP studio he graced in 1976 with Be Bop Deluxe.
"Whimsy" is a double-CD featuring some of Nelson's more accessible music of recent times.
"Fabled Quixote", released in 2003.
BILL NELSON
Whimsy
Disc 1: 1. Nostalgia (For The Future) 2. Slumberlite 3. Let Flow The Wine 4. Switch Off That Desert Sunset 5. Magnetism Made Me Do It 6. A Simple Thought Flashes Through My Mind 7. Senor Mysterioso 8. Ocean Full Of Wishes 9. Swept Away 10. Islands In The Sky 11. Always Summer 12. The Fundamental Blues 13. My Favourite Urban Chrome-Green Sky 14. Dizzy In The Head 15. I Looked At The Sea 16. The Girl Who Disappeared Into A Cloud 17. Whimsy 18. So Far 19. The Violins Of Autumn 20. Will
Disc 2: 1. Showtime 2. Dumb Palooka 3. Garage Full Of Clouds 2 4. Organola 5. Perfect Bliss 6. Powder Blue 7. Here We Go 8. When We Were Young 9. Fairyland Before The Fire 10. Cowboy Christmas 11. Struck Dumb By Beauty Again 12. Don't Be A Stranger 13. The Light This Universe Attracts 14. Sing Ye Golden Sunbeams, Sing 15. Superslippy 16. The Fabulous Fountain Of Your Savoire Faire 17. A Star Named Desire 18. Buzz Was Honey 19. Over The Moon 20. Close Your Eyes (The Sleepytown Symphony)
---

Always Summer