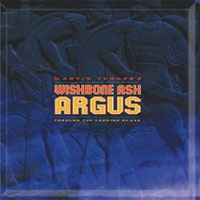 Martin Turner, original bass player, singer and principal songwriter during the classic Wishbone Ash period returns with a re-recording of the classic 1972 album.
It was an opportunity also to place the tracks in the intended order.
Ray Hatfield (guitars, vocals), Rob Hewins (drums), Danny Willson (guitar/vocals), Keith Buck (guitar, vocals)
With John Wetton and Geoff Downes on backing vocals!
MARTIN TURNER's WISHBONE ASH
Argus...Through The Looking Glass
1. Time Was 2. Sometime World 3. The King Will Come 4. Leaf And Stream 5. Warrior 6. Throw Down The Sword 6. Blowin' Free