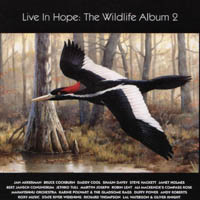 "Diverse? You could say ... there's a weird kind of coherency about it. The first UK wildlife charity album since the Spike Milligan Beatles-involved 1969 compilation (four stars)"

That's how Britain's Mojo Magazine welcome the first Wildlife Album on its release in 2004. Now, its success has spurred on a worthy successor - "Live in Hope - The Wildlife Album Vol 2" - - a more ambitious, more cohesive collection with, again, all profits going to the World Wildlife Fund and Ulster Wildlife Trust.

This latest wildlife charity fund-raiser offers 19 tracks from an eclectic array of international folk, rock, jazz and classical artists including Roxy Music, Jethro Tull, Richard Thompson, Mahavishnu Orchestra, Jan Akkerman, Steve Hackett, Shaun Davey, Bert Jansch and Bruce Cockburn.

Every track is on the theme of nature and the album boasts contributions recorded exclusively for this release come from Welsh singer-songwriter Martyn Joseph, Scottish singer-songwriter (and 2005 BBC Radio 2 Folk Awards multiple winner) Karine Polwart and cult English rocker Andy Roberts (ex-Liverpool Scene / Plainsong / Grimms), amongst others.

This beautifully packaged release comes with booklet notes by nature columnist Simon Barnes (The Times).

Film buffs notes: opening track, 'Eagle Rock' was a 1971 hit single for Daddy Cool and a retro poll-topper several times over in Australia, and features prominently in the new horror movie, 'Wolf Creek'.


THE WILDLIFE ALBUM Vol.2

Eagle Rock - Daddy Cool * Follow The Heron - Karine Polwart * One Brown Mouse - Jethro Tull * Open Country Joy - Mahavishnu Orchestra * If A Tree Falls - Bruce Cockburn * The Raven - Andy Roberts * Song To Nature - Steve Hackett * A Walk In The Ocean - Shaun Davey & Liam O'Flynn * Sea Spray - Robin Lent * Dolphins Make Me Cry - Martyn Joseph * Lowlands - State River Widening (with Anne Briggs) * Black Birds of Brittany - Bert Jansch * South Downs - Roxy Music * The River - Duffy Power * Oh Cumberland - Janet Holmes * Wildflower 2 - Jan Akkerman * Flight of The Pelican - Lal Waterson & Oliver Knight * Rathlin Sound - Ali Mackenzie's Compass Rose * Summer Is Icumen In - Richard Thompson
---
Audio :

Dolphins Make Me Cry/MARTIN JOSEPH

If A Tree Falls/BRUCE COCKBURN

Also available: