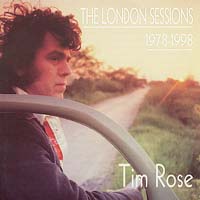 Previously unreleased tracks from studio sessions recorded by this legendary American troubadour between 1978 and 1998 in his adopted home of London.
Tim Rose had a career in music that spanned 40 years, from the early 60s to his death in September 2002. Most of the songs here showcase Rose the ballad singer, not Rose the rock shouter, and demonstrate a more intimate and retrospective aspect to the man.
Having said that, the album starts atypically, with its one out-and-out rock song, "Like A European" before settling into an acoustic take of the Bee Gees' "I Started a Joke", which sets the tone for most of the rest of the album.
Another link back to Rose's earlier career is an interpretation of "Hey Joe", a song readily associated with him on account of the fine version he recorded on his first album in the late 60s. This take retains much of that original's sense of menace and foreboding. The album closes with two little-heard Rose originals.
Despite being known as a singer-songwriter, Rose was actually not the most prolific of songwriters, and many of his albums concentrate more on interpretations of other people's songs rather than original material.
So any new compositions bearing Rose's name will be of interest to his fans. These low-key, up close folky numbers are among the best of his later efforts, and were rarely (if ever) performed in concert.

TIM ROSE
The London Sessions 1978-1998
TRACK LISTING:
1. Like A European 2. I Started A Joke
3. The Rose 4. Over The Rainbow
5. I Guess It Doesn't Matter Anymore
6. Pavement Princess 7. It's All Gone Wrong 8. There I Go Again 9. Hey Joe
10. Lady's Coming Home For Christmas 11. Borocay (Yo Tengo Amore Te)
12. The Answer
---
Audio : I Started A Joke