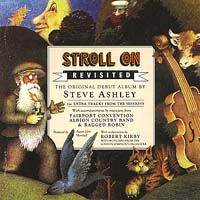 "Stroll On Revisited" was English folk singer-songwriter Steve Ashley's acclaimed 1974 debut, and features some of his finest songs.
Featured musicians include some of folk rock's finest: Dave Mattacks, Simon Nichol, Jerry Donahue, Ashley Hutchings, Danny Thompson,Dave Pegg and Barry Dransfield Also featured is Nick Drake arranger Robert Kirby conducting a string section of members of the London Symphony Orchestra.
With two unreleased tracks from the 1971 Olympic Studio sessions and a 1974 single with members of Fairport Convention, this handsome Market Square release is complemented by a fully-illustrated 16-page booklet.
---
...it's up there with Leige & Leif, the first Steeleye album, Christy Moore's Prosperous and suchlike, a masterpiece of its kind; it is still too much of a best-kept-secret. MOJO June 1999

STEVE ASHLEY
Stroll On Revisited
TRACK LISTING:
Fire And Wine/Finite Time/Silly Summer Games/ Springsong/ Monkey Puzzle Tree/Farewell Green Leaves/Spirit Of Christmas/ Morris Minor/Candlemas Carol/John Donne/Song/Old Rock 'n' Roll/Love In A Funny Way/Lord Bateman/Follow On

---
Audio : Candlemas Carol
---
Like this, try these...