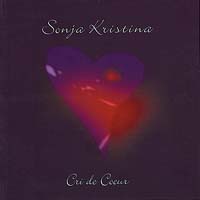 Actress and singer Sonja Kristina shot to international fame in the 1970's fronting the prog-rock band Curved Air. With the band's demise, Sonja brought up her children and recorded solo albums, in a genre she termed 'acid folk', to critical and public acclaim.
A dark period for Sonja commenced in the early 1990s with the end of a high-profile marriage to former Curved Air drummer Stewart Copeland (who had found greater fame and fortune with The Police).
This release finally breaks her silence - a veritable 'cry from the heart'. There is an exclusive video of Sonja included.
"All too often these songs are sung just because they have endured, but Ms Kristina seems to give them lyrical weight and meaning often forgotten, or ignored." Jazz Review
"… a lady of jazz and her voice is tailor made for the genre. The mood never over-reaches and remains one for the dark and smokey room and very intimate, too. Sonja has moved from acid folk to antacid jazz!" Rock Society

SONJA KRISTINA
Cri de Coeur
TRACK LISTING:
1. Don't Explain 2. Lullaby 3. Round Midnight 4. Solitude 5. Love For Sale
6. Patterns 7. Every Time We Say Goodbye 8. Unworthy Of Your Love
9. Skylark 10. I Have Nothing 11. I'd Give My Life For You 12. Cry Me A River
13. Petit Cri 14. Reprise - Every Time We Say Goodbye

---
Audio : Every Time We Say Goodbye
---
Unworthy Of Your Love
---
Cry Me A River