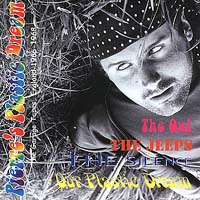 An extremely rare compilation by various bands headed by producer/engineer PIERRE TUBBS and recorded in his converted garage between 1966 and 1968. Here is an amazing range of musical style, from pop through R 'n' B and psychedlic.
Pierre Tubbs started working for United Artists in 1967 in his role of Creative Manager and during the period that followed he penned a hit song for Al Matthews ("Fool") in 1975 and subsequently Maxine Nightingale "Right Back Where We Started From".
This compilation draws from his period at UA and his earliest days at Strike Records, an independent founded in the wake of Andrew Loog Oldham's Immediate.
" ... reveals an auteur with few peers. Pierre Tubbs' previously unacknowledged talent is finally getting its proper due."
RECORD COLLECTOR (April 2000)

PIERRE TUBBS
Pierre's Plastic Dream
TRACK LISTING:
Our Plastic Dream
Someone Turned The Light Out/ A Little Bit Of ShangriLa/ Encapsulated Marigold/Paint Yourself/Rubber Gun
The Owl
Shades Of Blue & Greenwater Flies/Run To The Sun
The Jeeps
Love Is A Sometime Thing/Don't Come Running Back/That Was The Good Life/Ain't It A Great Big Laugh/I Put On My Shoes/Here's A Heart/Don't Do it
The Jeeps with JJ Jackson
Come See Me/But It's Alright
The Silence
You And Me/Hey You Lolita/Wanda/Julie September/Did He Run
---
Audio : The Jeeps :
That Was The Good Life

---