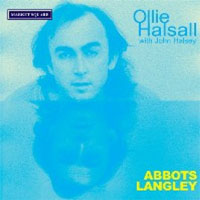 In 1980, following his early career with TIMEBOX, PATTO, TEMPEST and BOXER, guitarist supreme Ollie Halsall
teamed up with former bandmate drummer John Halsey to record these
remarkable sessions.

When the planned group never materialised, Halsall joined Kevin Ayers' band, with whom he spent most of the next 12 years, until his untimely death in 1992.
This album is a snapshot of a particular period in the life of a somewhat eccentric but extraordinarily talented
musician.

OLLIE HALSALL
Abbots Langley
TRACK LISTING:
1. Bum Love 1.02
2. Monkey On My Back 3.05
3. Marietta's Pizzas #1 0.33
4. Don't Understand 3.39
5. This One's For Me 3.40
6. Marietta's Pizzas #2 0.34
7. Seven Days 4.33
8. Time Is By My Side 2.55
9. We Want Out 3.11
10. Marietta's Pizzas #3 0.30
11. Roll Around 3.22
Bonus tracks:
12. Seven Days (alt. version) 2.47
13. We Want Out (instr) 3.38
14. Run 3.55
15. Shame Shame 2.36
---