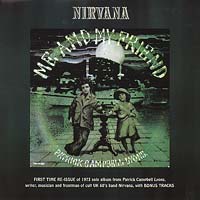 Patrick Campbell Lyons formed Nirvana in the still-swinging London of the late-60s, together with Alex Spryropoulos. In 1968, signed to Island Records, they charted with 'Rainbow Chaser', a classic slice of pop psychedelia.
After achieving short-lived success, Patrick decided to pursue a less structured direction and signed to the fledgling Vertigo label. In 1970 his solo album 'Local Anaesthetic' was released.
In spite of this, and also work as a talent scout and producer for the label, Patrick remained restless and in 1972 sailed to Majorca on a friend's boat where he got together songs to be featured on his second solo album 'Me And My Friend'.
Released in 1973 on EMI's Sovereign label, it features Bobby Harrison and Micky Moody (who formed the band Snafu) and former Nirvana cellist Sylvie Schuster. This CD reissue is complemented by the inclusion of bonus tracks from Nirvana's 1972 album 'Songs Of Love And Praise'.

NIRVANA with PATRICK CAMPBELL LYONS
Me And My Friend
TRACK LISTING:
1. Out Of Nowhere 2. Friends 3. Mother England 4. Everybody Should Fly A Kite 5. Tomorrow I'll Make You Smile 6. Me And My Friend 7. Jesus Christ Junior 8. I Think I Want Him Too 9. 1974 10. Watch Out Cassius Clay 11. On The Road 12. Please Believe Me 13. Lord Up Above 14. She's Lost It 15. Nova Sketch 16. I Need Your Love Tonight 17. Will There Be Me 18. Stadium
---
Audio : Jesus Christ Junior
---