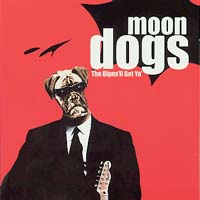 Formed in London in 1999 Moon Dogs are fast gaining cult status on the live circuit for their relentless, heady brew of blues rock.
The band features a seasoned line-up with support from studio guests including Rod Argent (Zombies, Argent), Jim Rodford (The Animals, The Zombies, The Kinks), Richard Smith (Fat Marrow), John 'Guiness' Gordon (Alan Price, Highway), Lindsay Bridgwater (Ozzy Osbourne, Denny Laine) and Kwaku Dzidzornu (Stereo MCs).
Band member Derik Timms (guitars,vocal) has played with Dave Edmunds, Albert Lee and George Harrison amongst others whilst Eddie Masters (bass) and Graham Walker (drums) have worked with Albert Collins, BB King and Gary Moore.
Timms co-wrote the material with Clive Bunker (Jethro Tull), Mike Richardson (Elkie Brooks) and Steve Simpson (Roger Chapman's Short List) amongst others.

MOON DOGS
The Blues'll Get Ya
TRACK LISTING:
1. Everything 2. The Midnight Rider
3. Travelling Show 4. Blue Tattoo
5. The Blues'll Get You 6. The Little Red Rooster 7. Moon Dog Boogie
8. That's What She Said 9. Don't Worry 'Bout A Thing 10. Tank Full Of Fuel
11. Hitman 12. Baby Please Don't Go
---
Audio : Everything
"The idea to record this album came from Graham Walker so it's all his fault...as Graham played on albums that have sold millions and always says the right thing, we got on with it..."
Derik Timms