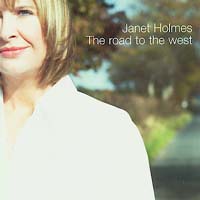 The Road To The West - sleeved in the beautiful, dreamlike art of pre-war Belfast art visionary John Luke - encompasses influences that range from the bittersweet country sound of Emmylou Harris to the sweet soul of Paul Carrack, the yearning spirit of Irish traditional music, and the glorious noise of The Who.
Featured musicians include international trad fiddle virtuoso Martin Hayes (playing electric!); Ireland's only Woodstock veteran Henry McCullough (Joe Cocker, Wings), (playing acoustic!); solo guitar star Colin Reid; and Texan prog-rock maestro Barry Bynum.
Core band includes pianist Brian Connor (Eleanor McEvoy/Van Morrison) and drummer Liam Bradley (Ronan Keating/Van Morrison) plus Irish dobro ace Colin 'Hillbilly' Henry
---

JANET HOLMES
The Road To The West
TRACK LISTING:
1. Be The One 2. If I Had A Boat
3. Dreams 4. Gone 5.The Fields Of July
6. Letting Go 7. When You Needed
8. Love Will Keep Us Alive 9. The Wind & The Rain 10. How Soon Is Now?
11. People On The Highway
12. Thanksgiving Eve
---
Audio : Letting Go
"I've made recordings before this but never anything serious, never anything with my name on the front, where it feels like I'm putting some part of myself on the line. You sing in pubs and on festival stages and it's all good fun, but time drags on and people start asking why I don't do it 'for real'. And then I start asking myself the same question! I mean, you only live once…" Janet Holmes
"This is a very fine album ... if you have tendencies toward Irish music, folk, bluegrass, or just enjoy hearing top-notch musicians having a good time, then investigate this."
Get Ready to Rock!