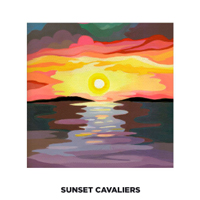 Themed around 'A Cultural Age In Its Autumn', 'Sunset Cavaliers' is a lovingly-crafted homage, written and performed by author and musician Colin Harper to the sound-worlds of the 1960s and 70s chronicled by him in five books over the past 15 years.

Three (biographies of jazz guitarist John McLaughlin and rock guitarist Andy Powell, plus a history of 300 years of Irish Uilleann Piping) were written during 2012-15 - which also timeframes the recording of the bulk of Sunset Cavaliers.

Drinking from a musical wellspring, spanning trad to rock via jazz and fusion, from the UK, Ireland and the USA, the album's rich collaborations involve a roll call of star contributors in:

Mahavishnu Orchestra alumni

Steve Kindler (violin) and Premik Tubbs (sax);

Wishbone Ash mainstay Andy Powell (guitar);

Chris Spedding (guitar);

Bert Jansch (guitar);

Brooks Williams (guitar);

Linley Hamilton (flugelhorn);

John McSherry (uilleann pipes);

Duffy Power (vocals/harmonica);

ex-Mellow Candle Alison O'Donnell (vocals);

Sarah McQuaid (vocals).


COLIN HARPER
Sunset Cavaliers
TRACK LISTING

1. Blues For The Mahavishnu (Radio Edit)
2. Sunset Cavaliers
3. Green Hill Country
4. Hebridean Seas In Winter
5. Steven Kindler
6. Blues For A Green Earth
7. Blues For The End Of Time
8. Blues For The Mahavishnu
9. Trip To Ennis
10. Slight Return
11. Nine Lives Gone
12. Aztec Energy
13. Three Syllable Time

BONUS
14. Blues For A Green Earth (2004)

---
Artist: Colin Harper
Title: Sunset Cavaliers
File: Folk/Rock
Label: Market Square
Cat: MSMCD172
UPC: 5065001032318
Rel: February 18th 2016

---
• First nationally-released album from acclaimed music biographer

• Digipak with booklet
---
Praise for author Colin Harper:

'Well-written, informative and heartbreaking...'
Sunday Times, 2015

'How Colin Harper had the mental tenacity to string together the disparate threads of music from the decades he covers is difficult to comprehend - but he pulls it off without ever being dull...'
Record Collector, 2014

'Brilliant.'
Time Out, 2000

www.colin-harper.com