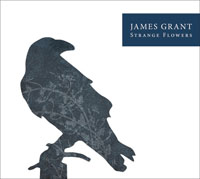 James Grant returns with Strange Flowers, his most upbeat record since Love And Money's legendary Strange Kind of Love.

More of a full blown band affair than the introspective Holy Love, another phenomenal collection of songs begins with the sweeping strings of This Could Be The Day and goes on to eclectically cover topics such as vampires(Strange Flowers), how Satan was perhaps the first solo artiste(Can't Beat The Music) and features as its centrepiece the epic My Father's Coat.
JAMES GRANT
Strange Flowers
This Could Be The Day
Darkstar
Strange Flowers
The Hallowing Touch
My Fatherís Coat
The Bay At The Nape Of Your Neck
Lake Louise
Is This The Kiss?
Canít Beat The Music
Scarecrow Song
Catherine Burns

---
There are shades of Scott Walker, John Martyn, John Barry and 70s' soul but the voice, the inimitable lyrical twists and turns and blistering guitar playing are absolute James Grant.

Filled with uncommon candour, passion and dexterity, Strange Flowers reaffirms his reputation as one of the finest singer songwriters and performers there is and will undoubtedly be one of the albums of 2009.