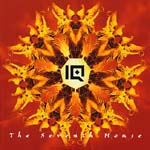 IQ were formed in Southampton, England, in 1981. Relocating to London in early 1982, the band gigged relentlessly throughout the UK and released their debut cassette album Seven Stories Into Eight in October of that year.
Their powerful and melodic music, coupled with outstanding musicianship and a theatrical live presentation, quickly earned them a dedicated following and a series of headline appearances at London's legendary Marquee club.
The band spent most of the year 2000 writing and recording the new studio album "The Seventh House", which was released to wide acclaim in February 2001.
This new CD has proved to be a worthy follow-up to Subterranea, combining a harder edge with IQ's renowned melodic sensibilities. 2001 also saw the 20th anniversary of IQ and this was marked by a special concert to a packed audience at London's prestigious Mean Fiddler venue.
IQ
The Seventh House
1. The Wrong Side Of Weird 2. Erosion 3. The Seventh House 4. Zero Hour 5. Shooting Angels 6. Guiding Light

Erosion
---